Price & Cost of Building A Concrete Swimming Pool and Pool types in Nigeria
In Nigeria, a swimming pool project is a big investment, as well as a big decision, buy and there are not enough or conflicting information resources in the public square to address this need. This is partly because the swimming pool industry in Nigeria at this infancy stage is highly fragmented, unorganized, unregulated and dominated by quacks and agents disguising as swimming pool engineers. All that is changing thankfully.
Our goal is to provide you with a professional, informative and reliable guide on price & cost of swimming pools in Nigeria to help you develop an initial ownership cost budget and plan for the lifetime ownership cost associated with your preferred pool type.
Types of Swimming Pool Cost
In planning for any type of swimming pool there are 2 types of associated cost that should be budgeted for
The initial ownership cost – it is the initial purchase price of a pool that is paid upfront for its turn-key construction and installation from start to commissioning. In response to the questions from some pool shoppers, the Cost of Swimming Pool  Construction in Nigeria is the same as the initial ownership cost of swimming pools
The lifetime ownership cost – is the long-term cost of ownership of the pool which includes all expenses you spend after the initial purchase. This include maintenance, any repairs and replacements
Types of Swimming Pools in Nigeria
There basically, 4 types of swimming pools in Nigeria namely
Acrylic pools – They are the newest trend and latest technology in swimming pool construction where one or all the four walls and sometimes the floor of the pool is made from transparent or see-through acrylic panels. They are gorgeous, appealing with a glossy appearance. Its high impact, scratch and chemical resistant, 4 times stronger than concrete, 17 times stronger than glass and 50% lighter. It does not shatter like glass. Acrylic pools are outrageously expensive, generally about 5 times or more, more expensive than concrete pools (because the panels are a factory, custom produced and imported). Backed by a standard 10-year warranty. The initial ownership cost of the least Acrylic pool of mini size 5m x 3m with a 1side acrylic panel is currently about N16M upwards depending on location. The bigger the size and the no of acrylic walls, the higher the cost.
Concrete pools– These are pools where the shell is made from reinforced concrete poured into a mould or formwork and the shell surface is finished in any tiles option. They are versatile, durable and can come in any shape, size or design and can be constructed in any soil topography whether clay, sandy, well drained or waterlogged, flat ground, in the ground, above ground, sloppy or suspended. They can be built in the remotest town or village in Nigeria. All the pool shell materials apart from the equipment are locally sourced. They are more expensive than the fibreglass and vinyl liner pool types. A concrete pool can take 2 months or more to install but can – within the bounds of physics – be any shape, size or design you like. Concrete pools can come from mini size of 5m x 3m to maximum Olympics size of 50m x 25m or even more. Concrete pools have a lifetime structural warranty when they are well constructed and a completion period of about 2 months or more depending on the size and location. We are one swimming pool company in Nigeria that offer such lifetime warranty. The initial ownership cost of the least Concrete pool of mini size 5m x 3m is currently about N4M upwards depending on location.
Fibreglass pools or Resin– Are made from prefabricated fibreglass-reinforced plastic which is moulded into a basin shape either on site or off site. When moulded offsite, it is trailer transported and deliver to the site to be installed in an already excavated ground. Unlike concrete pools, resin or fibreglass pool can be fast to install within weeks but is inflexible in design options, shapes, sizes, finishes and specifications. They are best suited for firm ground. Easily deformed by ground movement and can be lifted by groundwater. It's not too popular in Nigeria because of the multiplicity of soil types across the country and also, at the moment, the number of qualified fibreglass manufacturers nationwide is still few. Generally, less expensive than concrete pools. In Nigeria, fibreglass pool, presently, have a warranty of about 5years. Completion period is 1 month. The initial ownership cost of the least fibreglass pool of mini size 5m x 3m is currently about N3M upwards depending on location. The cost is proportional to the size.
Vinyl-lined pool-Are usually prefabricated pool kits made from steel panels or rubber material that can be assembled on flat ground or above ground and the wall are covered with waterproof vinyl lining. Vinyl pool is best for short term usage as it can be disassembled and move to a new location. It's the cheapest construction option with a completion period of less than a week. Warranty is about 2- 3years as the lining material is susceptible to tears. The initial ownership cost of the least vinyl liner pool of mini size 5m x 3m is currently about N2M upwards depending on location. Like all pool types, the cost is dependent on size
We specialize and sell predominantly Concrete pools because of their popularity in Nigeria and to a lesser extent Acrylic pools.  We like the other types of pools as long as they are well built and functional
10 Reasons Why Concrete Pools Are More Popular in Nigeria
Although concrete pools have its downsides like high Initial ownership cost and long completion period of about 2 months, these downsides pale into insignificance, when compared to its numerous advantages
Lifetime structural guarantee when constructed well
Availability of constituent materials
Additional features compatible
Customizable shape
Customizable design
Customizable size
Ease of repairs
Fits any soil type
Good resale value
Durability
Acrylic pools are better than concrete in terms of trend, beauty, elegance and aesthetics, but are fantastically expensive (from N16m upwards for a 1side acrylic wall) and are for the big boys. The 2 other types of swimming pools – Fiberglass pools and Vinyl liner pools could be a better fit in some rare situations. All the above 4 types of swimming pools- Acrylic, Concrete, Fiberglass and Vinyl liner pools all vary in cost and price. To make a fully informed buy decision about your preferred pool type, you need to know both the initial ownership cost budget and the lifetime ownership cost of your pool type
Work Items in Estimating the Initial Cost of Concrete Pools
In general, there are 2 sets of work items in the calculation and estimation of the cost of any concrete swimming pool construction in Nigeria. They are Construction works and Equipment works.
Construction works
Excavation
Waterproof concrete blinding
Waterproof concrete shell
High tensile reinforcement
Formwork
Backfilling
Cart away excess
Cement & sand backing
Interior tiling
Terrace reinforcement
Terrace concrete
Terrace tiling
Labour cost
Equipment works
Filter with valve
Circulating pump
Main drain outlet
Underwater light
Skimmer
Wall inlet & flanges
Pool ladder
Filter media
Vacuum point
Level regulator
Interconnecting piping system
Electrical control & connection
Cleaning equipment & chemicals
Installation cost
Factors Determining the Initial Ownership Cost of Concrete Pools
In general, concrete pool have initial ownership cost for the smallest or mini size of 5m x 3m starts currently from about N4M and upwards depending on several factors and the variables involved in the construction process.  These variables must be well managed and controlled in the construction process to avoid leakages or failures. As such, there is no DIY option for concrete pools.
Concrete pool projects are handled Turn-Key.
This is why unlike other firms that give a 2years warranty on pools against defects and leakages, our concrete pools come with a lifetime structural warranty
This initial purchase price of a concrete pool is dependent on the following factors:
The size of a concrete pool typically has the biggest effect on initial cost. Within the limits of physics, there are unlimited options for size, because concrete pools are highly customized, you have almost unlimited options for size. This does affect the price. For every square meter of excavation, concrete, reinforcement, plaster, tiles etc, more money is spent.Sizes can range from the smallest or mini pool of 5m x 3m to the maximum size Olympics pool of 50m x 25m. The bigger the size of the pool vis-a-vis the length and width, the bigger the initial cost of ownership or cost of swimming pool construction. The initial ownership cost of a mini-sized concrete pool of 5m x 3m to the maximum sized concrete Olympics pool alone of 50m x 25m   is currently from about N4M and $1m respectively. The cost of other sizes in between the mini and maximum sizes are calculated accordingly
Concrete pool shapes can be regular or irregular. For a given effective length and breadth, the shape has a marginal price increase of about 15-20% on the initial ownership cost. Generally, irregular shaped concrete pools are most difficult to construct, consume more materials in terms of cuts/waste and more expensive than regular shaped equivalents.
Type of Concrete Pool. There are two types of concrete swimming pools namely Skimmer Pools and Infinity/Vanishing edge/overflow Pools
Skimmer pools are the regular common pools where the top perimeter edge of the pool is higher than the water level. Skimmer pools are the most common and requested from those wishing to enjoy aesthetic pool advantage at affordable rates and are generally far cheaper than infinity pools. The initial ownership cost estimate of about N4m earlier discussed for the smallest or mini concrete pool of 5m x 3m is a skimmer pool
Infinity/vanishing edge/overflow pool is the pool in which the water level coincides with and overflows the pool top edges and of surrounding paving. This water is continuously collected from the overflow edge, through grating covered channels located perimeter around the pool top edge and sent to a hidden underground reinforced concrete balancing tank and eventually to the filtering system, to be disinfected and pumped back constantly.
 Infinity/vanishing edge/overflow pools are the most sought after for luxury swimming pools and the ideal solution for those looking for many undeniable advantages, unparalleled class, charming crystal-clear waters that bring uncompromising elegance and prestige to the pool environment.
Infinity/vanishing/overflow pools are far more expensive than the regular skimmer pool of the same size by about 60%. For example, the initial ownership cost of a skimmer pool of mini size 5m x 3m is estimated to be about N4m. An infinity pool of the same size has a turnkey initial ownership cost of about N6.4m. Contact us today to build or transform your old skimmer pool to a wonderful and breathtaking infinity pool.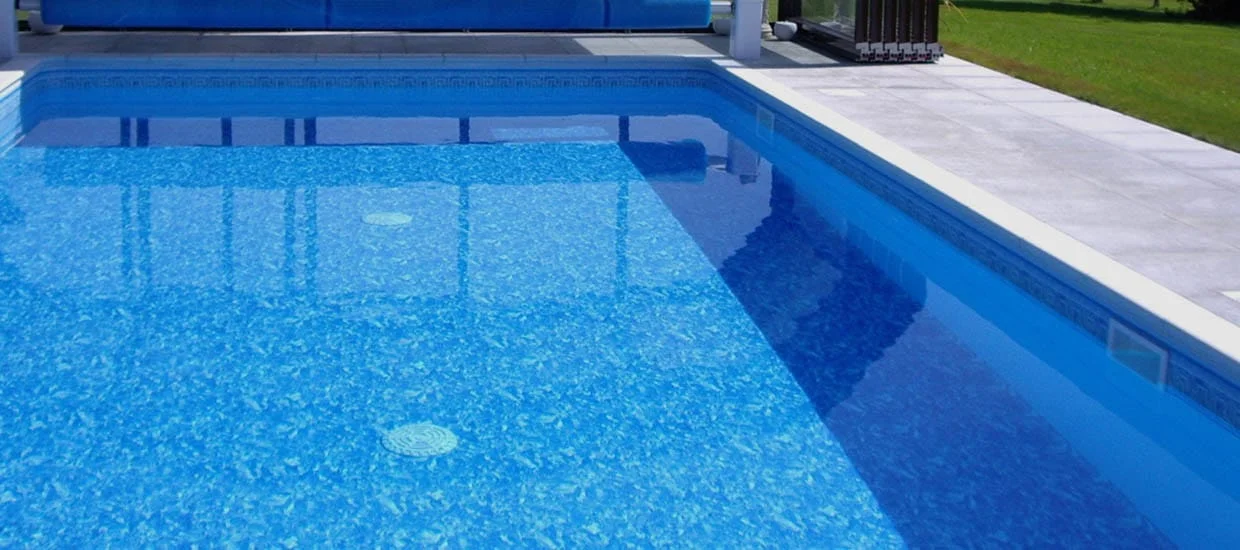 Interior Finishes. The interior surface that you use will affect the cost. Mosaic tiles are typically the standard interior finish for most concrete pool. Alternatively, Olympic styled rectangular tiles, marble and granite are preferred by some clients for beauty and aesthetics. The expensive the quality of tiles used to finish a concrete pool, the higher the initial ownership cost.
Soil Type. There various soil types in Nigeria and these play a major role in cost. Concrete pools built in waterlogged areas are generally more expensive than their counterparts in well drain soil
The topography of a site is a determinant of the final cost. Concrete pools built inland lands or terrace are less costly than pools built on a sloppy land. The degrees of the slope usually determine the size of retaining walls that will be constructed around the pool that the pool terrace will sit on. This additional cost is best evaluated and quantified onsite
The farther the pool site is from the source of materials, the higher the logistic costs and invariably the higher the initial ownership cost. Pool located in country homes and villages are more expensive than those in the cites
Additional Features. Additional pool features like waterfalls, fountains, spas, baby pool, heater, covers etc add beauty, elegance, colours and are cool options to customize concrete pools, but they can also be super expensive
What influences the lifetime cost of a concrete pool?
All the above options make up the initial price that you'll pay up front when you purchase your concrete pool. As with any other pool type, the lifetime cost is also taken into account too. The long-term cost of ownership for concrete includes maintenance and repairs after about four years.
This lifetime ownership cost of a concrete pool is dependent on the following factors:
Weekly Maintenance. Your pool uses chemicals weekly to balance the water pH value and to disinfect all kill all germs, bacteria, algae to make it safe for the pool user. Once the chemicals are mixed with the water, the pool pump runs at least 8 hours each day to ensure perfect circulation of the chemical solution to keep algae at bay and make the pool water clean and sparkling.  The monthly maintenance cost includes the cost of electricity to run the pool pump, the cost of the chemicals as well as the personal cost. Averagely in Nigeria, the pool chemicals cost about N20,000 monthly plus the maintenance professional who is paid from N40,000 monthly depending on the type of maintenance schedule, pool size, location and logistics. Generally, the maintenance cost of a swimming pool in Nigeria is about N60,000 monthly. As the foremost swimming pool maintenance & supplies company in Nigeria, we provide the cleaning, care and maintenance so that you can enjoy your swimming pool. We are dedicated to making your pool care easy. We stock and sell online and in-store all swimming pool chemicals & equipment supplies and render home delivery services of purchased maintenance products to our clients from any of our chain of swimming pool supply stores in Nigeria. Our cheerful knowledgeable staff and agents are available to offer unparalleled customer service in attending to any of your pool need in any part of the country. We have the solution to all your pool and spa needs
Acid Washes. A concrete pool at every 4 years needs the tiles to be acid wash to remove stains and algae that penetrate the grout of the tiles. The average cost for this is about N60,000 depending on pool size, location and accessibility. That is average N12,000 per year and N1,000 per month. Adding the two cost above for monthly maintenance and acid wash is N60,000 + N1,000= N61,000. Assuming concrete swimming is well construction without leaks or failure, the lifetime ownership cost of swimming pool in Nigeria is about N61,000 monthly depending on the type of maintenance schedule, logistics, size and location.
In summary, swimming pool construction in Nigeria is a major and significant investment so it's vitally important for you to ensure your money is being spent in the right place. Engage the services of an experienced pool builder or engineer that you fully trust their expertise to advise you appropriately and deliver value for your money. Avoid quacks or agents parading as engineers because the cost of repairs of a failed or leaky pool is almost the same as the cost of building a new pool. This unnecessarily doubles the initial cost of ownership of the pool
At Swimming Pool Boss we believe your swimming pool project is a major investment and should be such treated and should also come with a warranty to match. We stand behind our projects. All our Pools are 100% leak proof. Unlike other firms that give limited 2 years warranty, we as the #1 most trusted swimming pool supplies, maintenance & construction company in Nigeria of unparalleled 25+ experience,   offer first of it's kind unlimited lifetime structural warranty against failure, leakages and defects on every pool built. This guarantees the structural integrity of the pool concrete shell and gives our customers peace of mind, satisfaction and value on their pool investments.
As you can imagine, we are pretty busy and we get lots of enquiries daily.
Yet, we are glad to help you with all your pool needs. Please feel free to contact us by email, phone, or filling the form in the links below and we will strive to respond within 24 hours.
Unserious people and time wasters should stay away please.
Take your lifestyle to the next level. You have worked very hard and this is your reward
Considering To Own A Pool?
Let us help you fulfill your dream, elevate your lifestyle and make your home the ultimate resort
Suite 3, First floor, Manjo Plaza Within Oando Petrol Station, Ikota 2nd Gate, Km 22 Lekki-Epe Expressway, Ajah, Lagos.
Suite 24, First floor, OK Plaza, Beside Shoprite Complex, Km 42 Lekki-Epe Expressway, Sangotedo, Lagos.
The Garnet Building, 2nd Floor, Igbo Efon, Lekki Expressway, Lagos.
Suite 37 Amaden plaza Mabushi Abuja.
Suite 8, No 55 Presidential Road, Enugu.
31. Grace Avenue, off Obiwali Road, Rumuigbo
Suite 18, Future Gold Complex Asaba Housing Estate, Airport Road, 320213, Asaba, Nigeria
+234 805 966 5527,
+234 816 000 0309
Our support available to help you
8 hours a day, Six days a week.
Monday-Friday: 9 am to 5 pm

Saturday: 10 am to 2 pm

Sunday: Closed